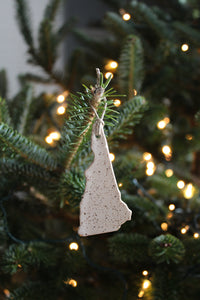 *Ready to ship
This listing is for one ceramic ornament.
All are slightly different- the one shown is not necessarily the one you will be sent, but will look like it!
These are made using slabs of clay. Clay was rolled, smoothed and compressed, then cut in the shape. Once firm, a hole was punched, lines were carved, and the edges were smoothed. Bisque fired, glazed, then fired again. Strung with natural jute.
Would look lovely hanging from your christmas tree, but also anywhere in the home, at any season.
Back side is NOT glazed.
Made in Manchester, NH by CRW
*All measurements are approximate
*please view all pictures carefully, they are there to show all the specific details about the handmade art